My climbing taster session - by Mary Newman
I booked in with Alex - she was so friendly and reassuring, and I was put at ease straight away. Before discussing the equipment and safety checks, Alex told me it would be best to do a practise run just around the wall, keeping close to the ground. This gave me an idea of how I should be placing my feet and hands when I'll be planning a route whilst climbing. Again, this gave me that reassurance and confidence I needed before getting into the harness. 
Alex was very thorough when talking through the equipment, and I felt I was in safe hands. I think this is important to any new climber that they feel 100% safe with the equipment and they have a decent understanding of why it is used and what it does. So, I was in my harness and ready to climb!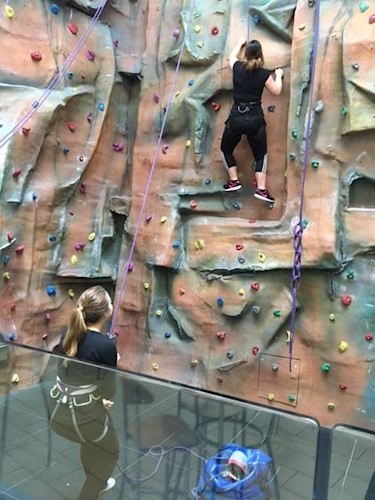 As Alex could tell I was somewhat sceptical about this climbing game! She made sure that the route would not be difficult, and we would go to the part of the wall that had ledges and lots of items to grab on to. Just two steps above the ground Alex asked me to take both feet off the wall and hold on to the rope so I could feel the harness supporting me. I was surprised at how safe I felt considering I was floating in mid air and it encouraged me to climb even higher. I felt supported the whole time I was up there, and if Alex could see I was struggling, she would advise me on what step to take next. Sometimes, it would be difficult to see where I could place my feet and it was great to have that constant guidance. With the continual support and direction, I was able to climb to the top. Even after several slips and falls, I exceeded my goal. I will definitely try climbing again, and look forward to the next opportunity to learn more.
For more information about climbing, or to register your interest about future courses at Malvern Active please contact Alex on climbing@malcol.org or call reception on 01684 581681 
Share: