Worcester Valkyries player Alicia Watkins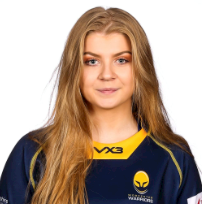 We are thrilled to announce a new player sponsorship deal with Worcester Valkyries player, Alicia Watkins. This is Alicia's sixth rugby season, having started at Worcester Girls U15s and completing last season with the U18s team. Alicia has also played for North Midlands County both U15s & U18s.
Securing a place in the Midlands divisional programme, Alicia then decided to only commit to the club last season. Shortly after this, Alicia moved on to Worcester's Centre of Excellence, where she was asked to train with Valkyries towards the end of last season and beginning of this season.
Valkyries pride themselves on being a progressive, aspirational club who work with both international and local talent to maximise individual player growth and development. 
We'll be rooting for Alicia and wishing the Valkyries every success this season.
Follow Alicia on Twitter for all latest team info and news.
Share: